A program built for fun!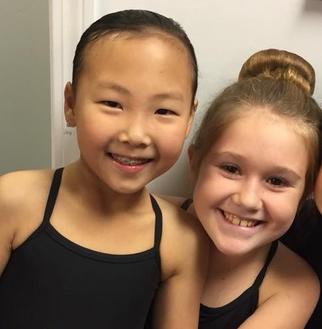 SUMMER 2019!
All 6 week series classes begin the week of July 8th
30 MINUTE CLASSES:
Mini Jazz [ Ages 6–8 yrs]
They'll jump for joy in this fun and funky dance class. With an eye to developing strength and control, your dancer will explore the basic and combustive elements that make Jazz dance a consistent favorite! From leaps to turns to cool combinations they'll burst with glee. Wed 6:00pm*
Mini Ballet Beats [ Ages 6–8 yrs]
Your darling will explore the world of classical ballet with a charming twist. Traditional & original exercises are creatively introduced to expand your child's view of Ballet, Creative Movement & Jazz while aiming for nourished technical progression. Thurs 4:00pm*
Mini Tap [ Ages 6-8 yrs]
Tap is a blast! Beginner tappers will work basic rhythmic patterns in combinations to gain self-confidence and control. Intermediate tappers will work a combination of strength and technical drills to build the precision necessary for this uniquely American-born dance style to explode. Thurs 4:30pm*
Mini Hip Hop [ Ages 6-8 yrs]

This high energy class is designed to encourage your young movers to make appropriate use of their enthusiasm while building focus, creating muscle memory, and developing their uniquely super swagger! Thurs 5:00pm*
Mini Acro/Contortion [ Ages 6-8 yrs]
Your Acrobat will enjoy the best attributes of traditional acrobatic, contortion, and tumbling training to allow them to increase stretch, strength, and stamina while gaining balance, control, and the technical tactics of proper form - all to approach new and exciting skills safely. Thurs 5:30pm*
60 MINUTE CLASSES:
Mini Cecchetti Ballet [Ages 6-9 yrs] A charming introduction to the world of classical ballet presented with a delightfully light-hearted approach. Enrique Cecchetti's system focuses on the purity of classic lines and clear-cut style. Wed 5:00pm*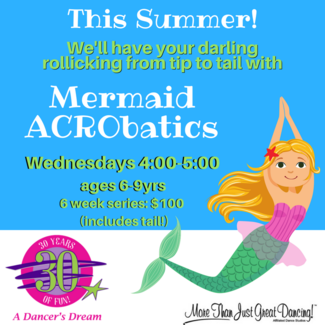 Mermaid ACRObatics [Ages 6-9 yrs] Dive in to this whimsical approach to our Acrobatic Program! Yes, your Acrobat will be wearing a Mermaid Tail as they build the stamina and strength to flip through a range of contortion and tumbling skills. It's O-fish-ialy fantastic ;oD Wed 4:00pm*
THERE'S MORE! CHECK OUT our rollicking Vacation FUN Center Events HERE!
*ADDITIONAL DAYS/TIMES ARE FORMING for MINI programs listed above = we work around YOUR schedule! Call or e-mail today with your preference/availability.
There's even MORE! Looking for a camp-like experience for your MINI?

DANCE DAYZ is it!
Daily classes & workshops in a wide range of styles including: Ballet, Tap, Jazz, Acro, Hip Hop, Cultural, Modern, Folk, etc, etc, etc AND a daily choreography workshop (a fav among our alumni!). Choose 1/2 day = 9:00am-2:00pm OR Full Day = 9:00am-4:00pm (extended day available) Monday thru Friday 7/15–26
More Dance Dayz details HERE